Project Review – Kopar
Covid-19 has been going on for some time, and nobody knows when it will end, or a vaccine will be ready. However, we can't wait for this pandemic to end totally before deciding to either upgrade from my existing property, relocate nearer to my child's school, or invest in a new property, as it requires a few years to build and by the time it is ready, we can capitalize on our investment.
Therefore, if you have a plan to upgrade, relocate, or invest, or if you are a foreigner, looking to buy a property in Singapore, I would like to recommend, Kopar@Newton. You might ask me, why Kopar@Newton? Why Newton? How can I afford it? What if I can't rent it out? There are too many why's, how's, what's, and more. Let me share with you the benefits of Kopar@Newtown. After this, if you still have standing concerns, we can discuss on how to overcome those.
Kopar@Newton
Kapar at Newton (纽顿铜源) is a 99-years leasehold development with a land size of 125,327 square feet having a plot ratio of 2.8. The developer of this project is CEL Development Pte Ltd. The project is located along Kampong Java Road. The development comprises of a total of 378 units.
CEL Development Pte Ltd is a subsidiary of Chip Eng Seng Group. Chip Eng Seng Group is a listed homegrown company that has won the bid of that plot of land at $418.8m. This homegrown company has portfolios that includes constructing The Pinnacle@Duxton, Privé @ Punggol Field, Park Colonial, High Park Residences, and more.
The legal completion of the whole development is planned to be on 31st December 2026. In all developments in Singapore, the targeted completion is normally earlier, in this case, is 31st Dec 2023.
Layout
First, let me share with you the layout of Kopar@Newton. I will not be sharing every single layout but will be sharing with you what I feel is worth considering.
| | |
| --- | --- |
| Unit Type | No. of Units |
| 1 Bedroom | 66 |
| 2 Bedroom Classic | 42 |
| 2 Bedroom Deluxe | 86 |
| 3 Bedroom Classic | 44 |
| 3 Bedroom Deluxe | 66 |
| 3 Bedroom Penthouse | 4 |
| 4 Bedroom Deluxe | 45 |
| 4 Bedroom Penthouse | 1 |
| 5 Bedroom Delux | 21 |
| Premier Penthouse | 3 |
2 Bedroom (Type 2D)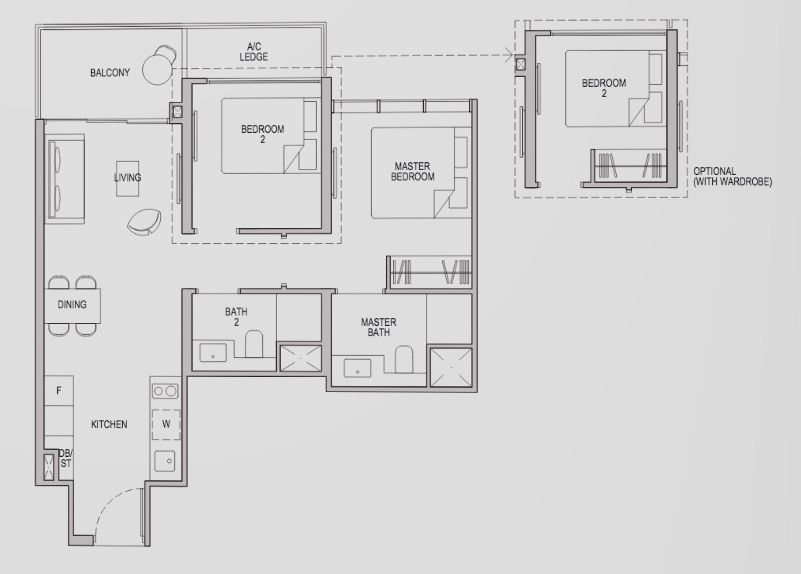 The 2 Bedroom Premium, at the size of 689 square feet (64 square meter), is one of the perfect unit for both investors, singles and couples.
The layout of the unit is very regular, and the size of both the master and common rooms are able to fit in King and Queen size beds respectively. Because of its regular layout, the arrangement of furniture will be easy as there aren't any sharp corners.
3 Bedroom (Type 3C)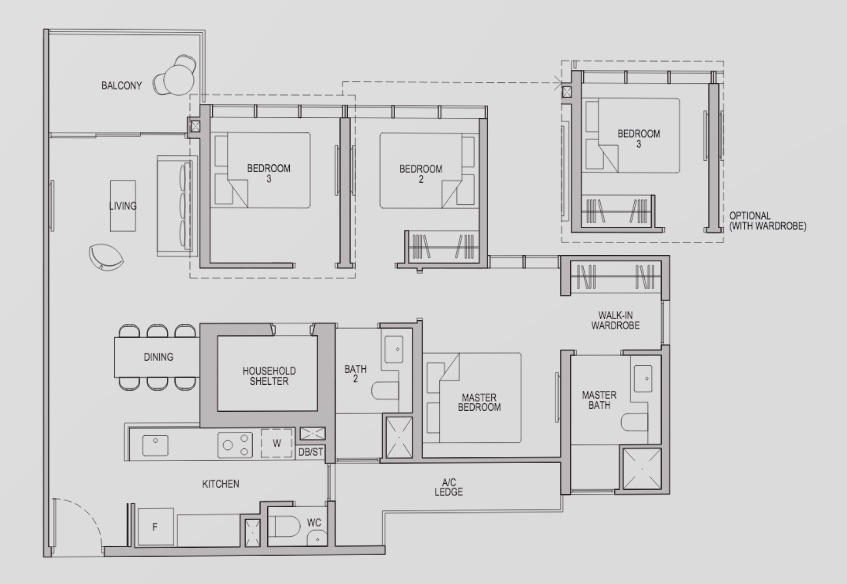 For new couples or couples with 2 kids, the 3 Bedroom would be a better option. The unit size of 1,055 square feet might sound a bit small for some of you, but when you take a look at the actual unit, it is not that small. The regular layout of the whole unit allows you to have maximized space utilization, with no wasted space between furnitures.
The master room, not taking into consideration the walk-in wardrobe and attached bathroom, allows a king-size bed to fit into the room and still provide a good walking space within the room. A small dressing table to go along inside the room is still possible.
If you have 2 children and want to give them their respective privacy, this unit allows you to do so. Both the rooms allow for a queen size bed to sit right in the center. You are still able to have a good walking area around the bed.
Should you not require both the rooms reserved for your children, one of them can be used as a study cum guest room, with a study table, beside a super single bed.
The size of the hall, allows you to have both the living and dining area separately. The design placed the see-through kitchen right beside the dining hall, which provides the meal to be placed with lesser movement.
Lastly, the unit, albeit only 1,055 square feet, is able to have a Household shelter. Many times, this will be used as a form of a storeroom. Should you visit other projects that provide a 1.055 square feet unit, there hardly is any storeroom. Therefore, depending on your needs, a 3 bedroom in Kopar @ Newton does give you the value for money investment.
5 Bedroom (Type 5C2)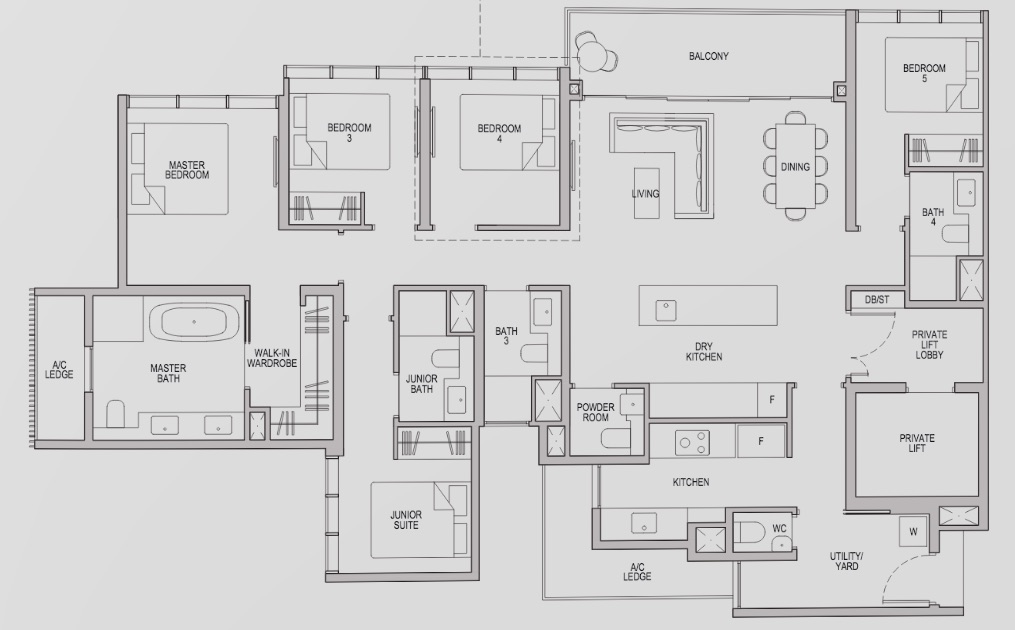 The 5 bedroom unit in Kopar provided a size of 1,819 square feet comes with a direct access from a private lift. This unit is ideal for family of 3 generation.
For the parent, they have a choice of either putting up in Bedroom 5, which is on one side of the hall, and comes with an attached bathroom and it has the full privacy of their own. Alternatively, they can comfortably stay in the Junior Suite, which has a longer walkway into the room. Personally, I will prefer to have them staying in the junior suite as the aged parents don't feel left out.
The master bedroom comes with an attached walk-in wardrobe and most importantly, the bathroom comes with 2 basins. some couples might know that having 1 basin can be challenging in the morning.
Personally, with the size available in the hall, it is able to allocate a good space for family bonding, where the family can sit together after a meal to chat and bond. The lifestyle in Singapore is so stressful that many people have unknowingly neglected their family members.
Location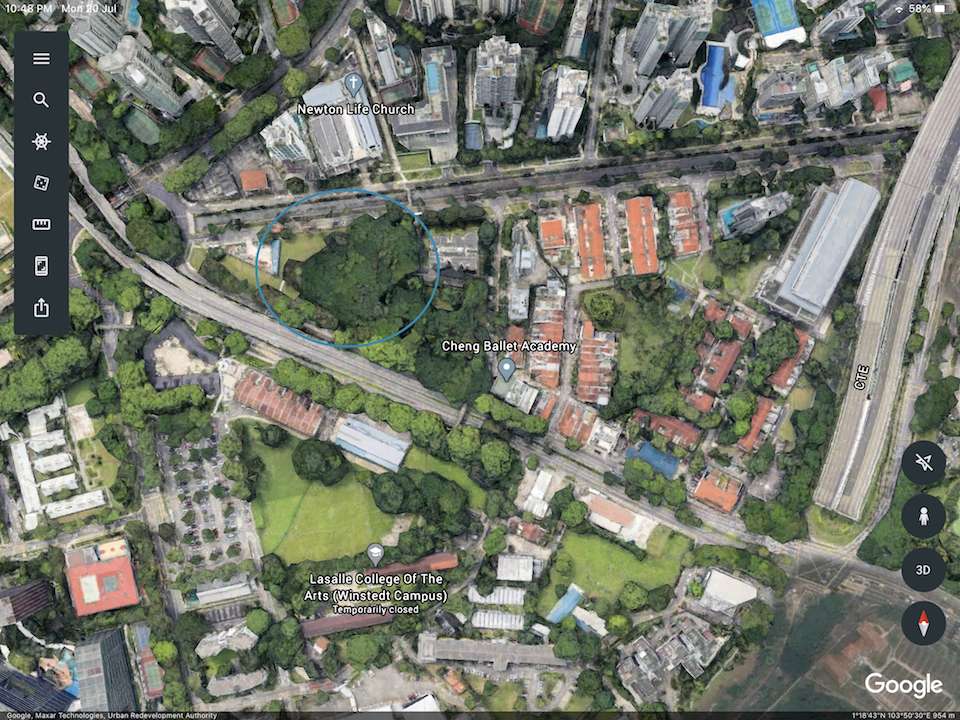 Kopar@Newton is located at the junction of Kampong Java Road and Newton Circle. The physical address of the two-block of the building is along 6 and 8 Makeway Avenue, Singapore 228606 and 228607 respectively. Across the development is Newton Hawker Center, a very popular hawker center which is visited by many tourists as well.
MRT Station
The nearest MRT station from the development will be Newton MRT Station, which is about 400 meters away, which would take you less than 6 mins to reach by foot. Newton MRT station is the interchange station for both the North South Line and Downtown Line, which brings you to most of the shopping areas in Singapore such as Orchard Road, City Hall, Bugis and Chinatown.
For working professionals, the MRT will also bring you to most of the business hubs in Singapore, such as Raffles Place, Marina Bay Financial Center, Suntec City, Tampines Hub.
Shopping and Dining
Very localised eating areas such as Newton Hawker Centre, Tekka Market and Food Centre, Whampoa Makan Place and Market, and more are within 2KM of reached.
Should you want to enjoy more comfortable and international cuisines, they are available in various shopping malls that are also within 2 KM reach. Malls such as United Square, Ngee Ann City, The Centrepoint, and lots more. These malls not only provide dining but also is a good place to shop.
Novena MRT station, which is just a station away from Network is a place you must not miss. The 2 biggest supermarket operators, Cold Storage and NTUC Fairprice are both located near to Novena MRT Station.
Schools
Schools are a key consideration for many young parents. Besides the convenience of getting from place to place, Kopar@Newton also has some of the most popular schools around.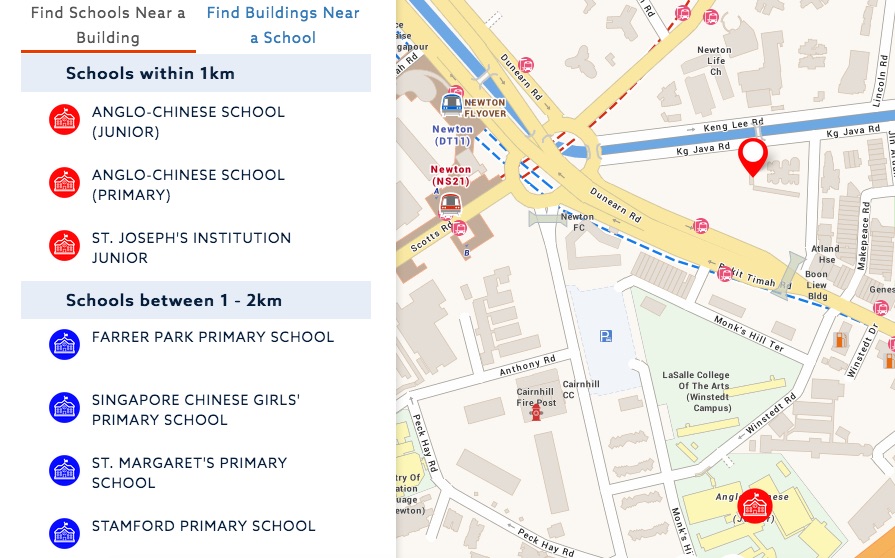 Anglo Chinese Junior School, Saint Joseph's Institution Junior School, Anglo Chinese Primary School are all within 1KM and schools such as Saint Margaret's Primary School, Singapore Chinese Girls Primary School are within 2KM.
If you are an expatriate, currently working in Singapore, you might want to consider sending you children to international schools such as ISS International School, Chatsworth International School, Dimensions International College which are within 2KM.
Accessing to Highway
The developer has not neglected the drivers. Accessing to CTE, which is one of the highways that cut across many towns of Singapore is just 5 mins away.
Another highway that brings you between east and west of Singapore, will be the PIE. It takes you 10 mins to hit the PIE from Kopar@newton.
Rental Return
As the project is located just outside the crowded Orchard Road, the rental demand is still going strong. Basically, the rental asking, as compared to those in the Orchard area can be 25% lower. Due to the current economical situation, that 25% saving, with just 5 mins train rides will be of great consideration for potential tenants.
As for the investment, Kopar@Newton is about 30% lower as compared to those in the center of the Orchard area. Looking at the percentage, you, being an investor will be profiting from both sides, the investment, which is 30% lower and rental, which is only 25% lower.
Conclusion
Personally, Kopar@Newton would be my key consideration if I am an investor or if I have children going into primary school.
Firstly – Rental Return
Kopar@Newton is not in the main shopping streets of Singapore, but it is just an MRT station away. In term of rental, it will be lower than those in Orchard. Question asked will be, why pay 25% higher for a 5 mins train ride.
If I am a tenant, I will consider paying the lower rental for the 5 mins train ride.
Secondly – Transport
The MRT station is only 400 Meters away. For those that work in the Business District, the MRT line will be of great help. Additional investment in cars may not be required.
If driving is a must for you, the 2 main highways of Singapore is less than a 10 mins drive away. Hitting onto the highway brings you to most of the estates in Singapore.
Do pass the link to your friends and relatives if you feel the sharing benefits you.
---
Should you have any queries, relating to Kopar@Newton, or other properties that are of your interest. Drop me a WhatsApp HERE. I will respond to you soonest possible.