Project Review – Jadescape
Being a professional Property Wealth Planner (PWP), many people turn to me, asking me a magic question.
"Which property should I invest? So I can make money".
Jokingly, I will reply,
"If I am so accurate, I will be sitting at home collecting profit"
That can be a joking reply but it is the truth. I don't have a crystal ball telling me which property is sure to make money. However, I have an established systematic way of assessing a property, to invest with manageable risk.
"How about me, wanting to buy for my own stay"? The same goes, "you may not be staying there forever, so what would be your projected profit when you sell?"
Now, let me share with you one of the projects that would be worth the time taken to read through my article and consider contacting me for a discussion. – Jadescape

Jadescape – 顺福轩
JadeScape (顺福轩) is a 99-year leasehold condominium developed by Qingjian Realty (Marymount) Pte Ltd. It is located along Shunfu Road. The development comprises of 7 blocks of the residential block, amounting to a total of 1,206 residential and 6 shop units. These units sit over a land size of 396,114 square feet, which is a very sizable land.
There is a very good spread of unit type as the 7 blocks comprises of 1 to 5 bedrooms units, with sizes ranging from 527 square feet for a Single bedroom unit to 2,099 square feet for 5 bedrooms unit. This distribution of size is perfect for both investors and homeowners.
For those who have heard about Jadescape, you might have also heard, about the FengShui (風水) of Jadescape. The reason is that the developer, QingJian Realty, has consulted Master Joey Yap, a famous FengShui Master during the design of the development. Therefore, the landscaping and the architectural design of the development reference the FengShui concept provided by Master Joey Yap, to bring health and prosperity to Jadescape.
Layout
Jadescape, with 1206 units in the project. The breakdown of unit are as follows:-
| | |
| --- | --- |
| Unit Type | No. of Units |
| 1 Bedroom | 236 |
| 2 Bedroom | 90 |
| 2 Bedroom Deluxe | 269 |
| 2 Bedroom Premium | 44 |
| 3 Bedroom | 86 |
| 3 Bedroom Deluxe | 137 |
| 3 Bedroom Premium | 42 |
| 4 Bedroom | 114 |
| 4 Bedroom Deluxe | 67 |
| 4 Bedroom Suite | 80 |
| 5 Bedroom Suite | 39 |
| Penthouse | 2 |
2 Bedrooms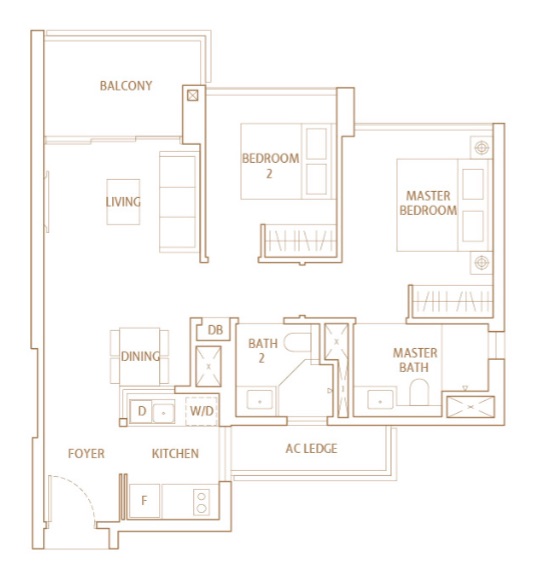 The 2 bedroom premium unit is the perfect unit for your own stay or investment. It has a size of 775 square feet, which many projects currently do not have for 2 bedrooms.
The unit layout is regular and both the master and common room are able to fit in King and Queen size beds respectively.
Due to the regular layout, the arrangement within the unit is perfect and there are no sharp corners, which is ideal for FengShui.
4 Bedrooms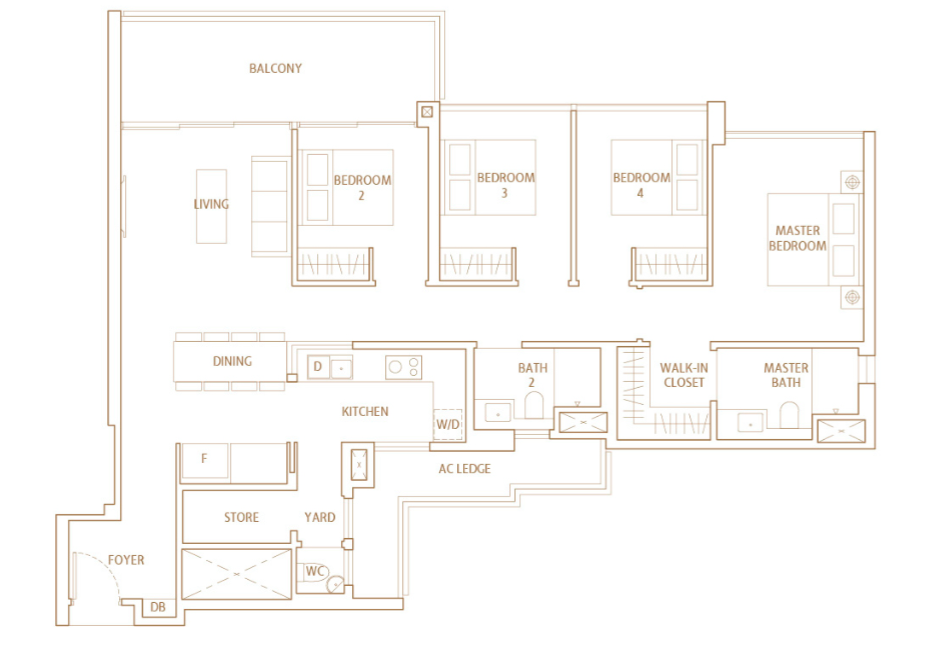 The 4 bedroom Deluxe unit is a good unit for your own stay, with 4 to 5 family members. It has a size of 1,421 square feet. The size might sound average to you, but you will feel the difference when you are at the showroom.
The benefit of Jadescape development is, all the units are of regular size. This provides us with more options as to how we would like our internal layout to be.
5 Bedrooms
The 5 bedroom suite provides a size of 2,099 square feet. If you have family of 3 generations, you must not miss this unit.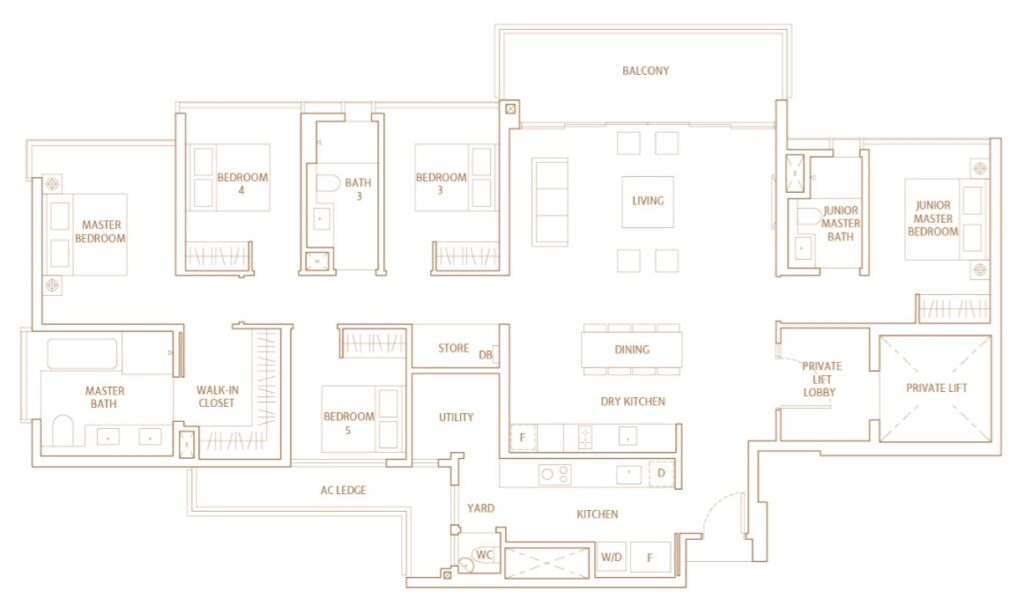 It has a junior master bedroom that comes with an attached bathroom on one side. This is perfect for parents, who would prefer more privacy. The other wing comes with regular master bedroom, which has a walk-in closet with an attached bathroom.
The 3 rooms are equally distributed between the master bedroom and hall, all of which have a good size and privacy.
This unit comes with a private lift lobby, that allows your shoes to be out of your house and it does not affect the internal elegance of the unit
Location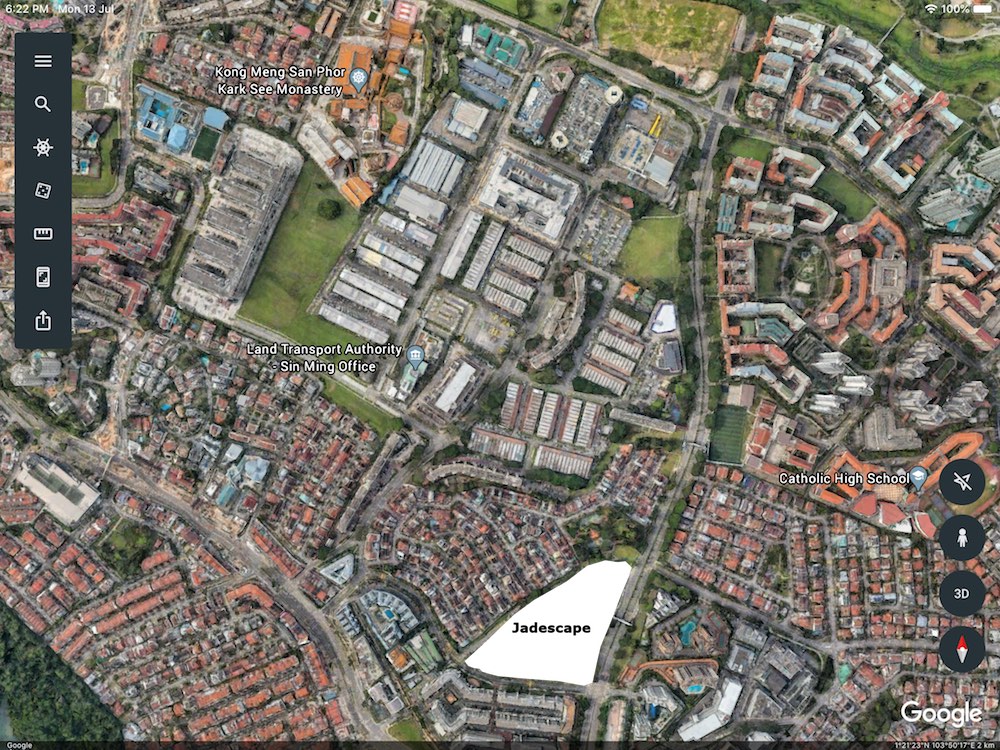 The plot of land that Jadescape sits on, was previously a HUDC development. It was right across the street of ShunFu hawker center, a popular hawker center that many people in the ShunFu and Thomson area patronize. Jadescape also enjoys the benefit of 3 most established estate in Singapore, Thomson, Bishan and Ang Mo Kio
MRT Station
The nearest MRT station to Jadescape is Marymount MRT Station. This is a station along the Circle Line. Bringing you to the business district required a change of MRT line at Bishan, which is 1 station away.
Thomson-East Coast Line is currently under construction. Upon completion of that, going to the north of Singapore is much accessible with a shorter time.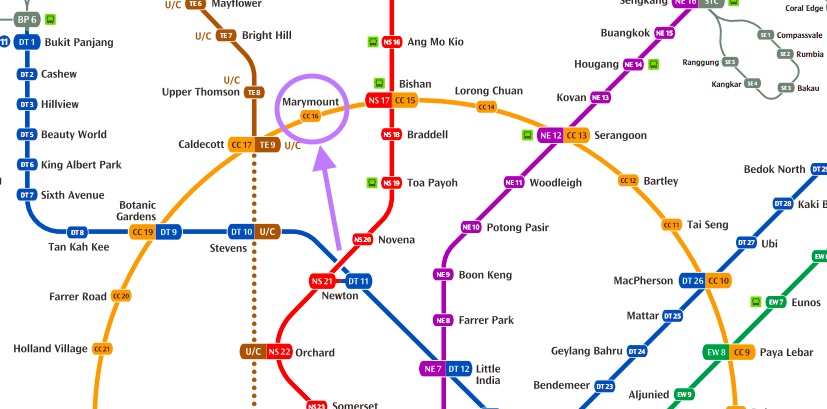 Shopping and dining
The nearest for dining in Jadescape will be the ShunFu hawker center which is just across the stress. However, if you are seeking for dinner dining, ShunFu hawker center will not be available, as it only operates in the day.
The next nearest place to head down for dining, would be Thomson area. There are rows of eateries along Thomson, and Thomson Plaza would be a shopping mall that you are able to dine, shop and obtain all necessary groceries
If short traveling is fine with you, 1 station away on an MRT ride to Bishan, brings you to Junction 8 and 1 station after the changing the train at Bishan MRT brings you to Ang Mo Kio Hub. These two shopping malls have all that you require for your everyday needs
Schools
Schools are a key consideration for many young parents. Jadescape, besides the convenience of getting from place to place has popular schools within reach. Ai Tong, which is within 2KM, is one of the most popular schools.
Another school that is closer to Jadescape, which is Catholic High School, which is within 1KM.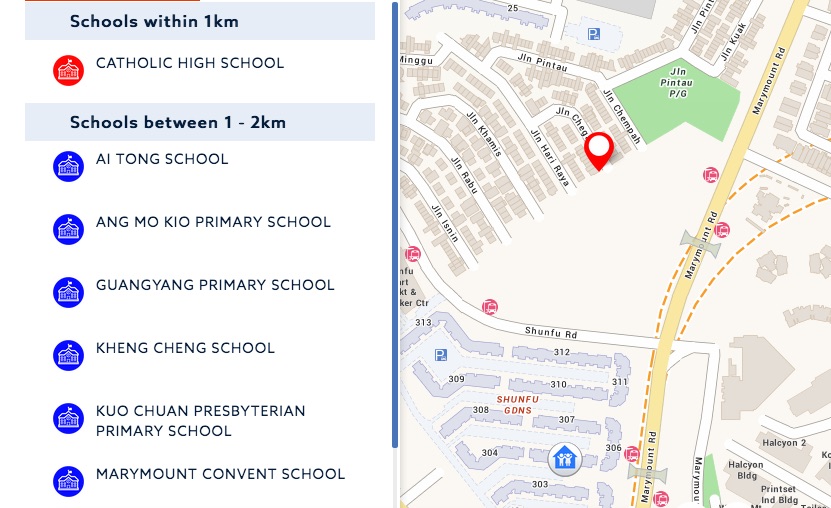 Direct Access to Highway
The North-South Corridor (NSC), will be the 11th highway built in Singapore after completion. The highway is a total distance of 21KM, and aims to serve the Northern part of Singapore residences. The initial target completion is in the year 2023. However, it was significantly delayed due to the construction, the revised deadline will now be in the year 2026.
Jadescape developer realized the importance and convenience of this highway, has built an exit in the project, to join onto the highway when is the highway is completed. This gives the residences in Jadescape the benefit of accessibility.
Future development
As shared earlier, the North-South Corridor (NSC) will be up operation in year 2026, which is 6 years from now. This means, traveling from Thomson area to both Northern and central part of Singapore will be shorter.
Along with the development of Thomson East Coast MRT Line, that will also value add to the accessibility to Thomson area.
New launches in D20
Since 2013, there have been a limited number of new launches. To date, there are 7 new launches and all units in these 7 new launches are sold. Jadescape has sold close to 75% of the units. During Covid-19 period, Jadescape is still transacting.
Due to the limited land available, the developer can only move towards En-bloc of an existing old project to obtain land for development, but this is not going to happen so soon. For an En-bloc will take place, it would take around 18 to 24 months, and after which, the developer requires another 36 months to develop. All-in, it would take around 5 years for the En-bloc and new development to be completed.
Looking at D20, there isn't much land available for new development. This maintains, if not uplifts the value of property in D20.
Rental yield
In Master Plan 2019, Thomson area was being crafted into the sub-regional center. The potential requirement for the rental will be on the rise. With the TOP of Jadescape happening in the year 2022, aligning with the development from Master Plan 2019. The timing is perfect, demand should start shortly after TOP.
Conclusion
Personally, Jadescape will be a project that I would strongly consider.
Firstly – due to the project landscaping.
The total of 7 blocks, amounting to 1206 units has given a good size, and the land size of above 396,000 square feet provide a good space between blocks. With the full facilities, that add to the completeness of the development.
Secondly – The Potential Growth
Having to look at the Master Plan 2019, the new launches around Thomson are much lower. This gives me a higher holding power, should I decide to sell the units within the next 5 years. By 2027, which is 5 years after TOP. I do not require to pay for Seller Stamp Duty at, same time, the value potentially appreciated due to the completion of master plan development.
Lastly – Transport network
With the development of MRT and The North-South Corridor (NSC). This has shortened my traveling time to various parts of Singapore. For those that work in Business District, the North-South MRT line will be of great help. Additional investment in cars may not be required.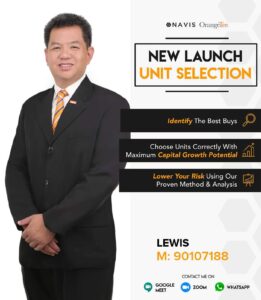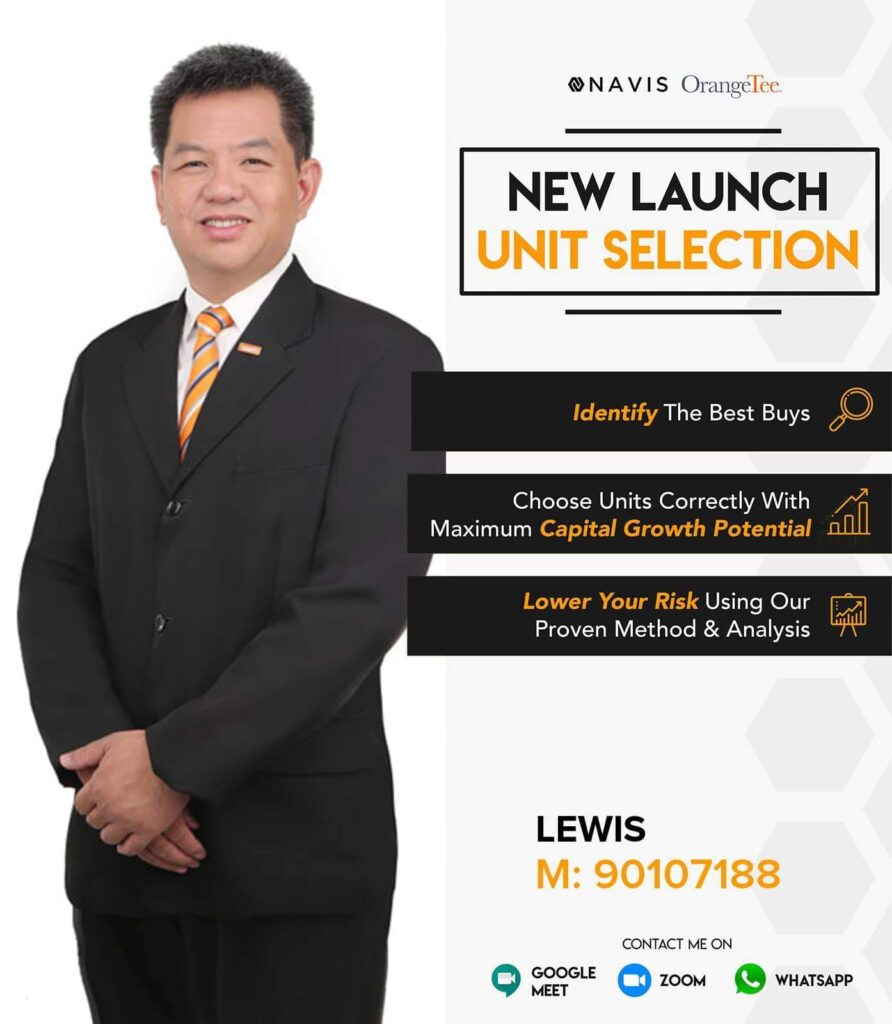 Lastly, as of now, there is more than 75 percent of units sold and it is still moving during the COVID-19 period. Do click on the link below to sent me a WhatsApp message and I will get in touch with you soonest possible. If you like the project, appreciate if you can share the link to your friends and relatives.
---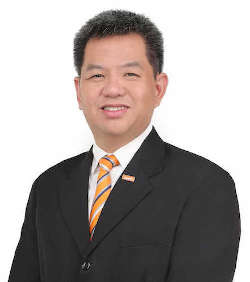 Lewis became part of the family of Orange Tee and Tie in 2020. He has been in real estate since 2005. Together with him, he brought along a long history of experience in both HDB and Private property.
His personal belief is, to share the truth and facts with everyone. With that, he has good credibility with his client. His strong belief in a partnership and not the client made him successful in this career also.
Should you have any queries, relating to Jadescape, or other properties that are of your interest. Drop me a WhatsApp HERE. I will respond to you soonest possible.