What can you do, when your HDB reached 5 Years MOP?
What Are The Available Options When Your HDB Reached MOP?
(Agent) Lewis: Mr. and Mrs. Soh, Thank you for your time. I understood, your current flat has reached the HDB MOP period. Any plan you have in mind?
(Owner) Mr. Soh : No Plan.. Why I need to plan? can't i continue staying?
(Agent) Lewis : Oh, of cos you can continue to stay, until your flat reach 99 years of age.
(Owner) Mr. Soh : Den, why I need to plan? i just continue to stay lor!
(Agent) Lewis : Mr. Soh, yes, you can. But, do you know, what will the value of your HDB flat be if you stay till you retired?
(Owner) Mr. Soh: Though it will surely go up?
(Agent) Lewis : May or may no!
(Owner) Mr. Soh : you sure?
(Agent) Lewis : Yes. Why not let me share with you, what are your option available. After that, you decided what you want to do? Maybe you can retired earlier. I said, MAYBE
(Owner) Mr. Soh: Ok.
3 Common options available for owner
Option 1 – Continue to stay in current HDB Flat
To save all effort of selling, buying, renovating and moving. you can continue to stay in your current flat.
Before you make that decision, some of the key pointer for your consideration
Understand your current value of your flat?
In many of the HDB Flat, the price is at peak within the first five years, after MOP, forming a bell curve format. Reason being, the flat is still new, renovation is still in good condition where buyer don't have to do much.
With that, some buyer don't mind paying a bit more, for the condition and renovation. They can capitalised the use of their CPF to service the loan and not cash for renovation.
Although the age and renovation has impact to the value of the flat. These are not the only factor, there are other factor to be considered as every single unit of flat is unique. Not all flat will be within that category. Which can profit upon selling.
Option 2 – Buying a private property and consider renting the current HDB flat
This option is to buy a second property. Use property to generate income through rental. The rental collected can be used to service the loan of the property
The consideration for this option is. As it is a second property, you will be required to pay for ABSD (Additional Buyer's Stamp Duty) during the purchase.
As you are still have a loan running for your HDB flat, the loan for your private property will be cap at 45% LTV (loan-to-value).
In many circumstances, this is the drawback for this option unless you are financially sound to pay those
Option 3 – Upgrade from the current property
In this option, you can further consider one for the four sub-option.
Buy First Sell later
Although you are buying the property first and sell it late, you will still need to pay Additional Buyer's Stamp Duty (ABSD) to IRAS during the purchase and seek remission of the amount after selling your HDB flat.
The timeframe for that to happen is six months. Which means, the HDB flat need to be sold within six months from

– The date of purchased on the second property for completed property
– The date of issuing of the TOP (Temporary Occupation Permit) or CSC (Certificate of Statutory Completion), whichever is earlier for new / uncompleted property
to enjoy this remission.
Some other requirement will be, the couple will need to have at lease one Singapore Citizen in the purchase and the newly purchase unit has to be on both name of the couple only.
Lastly, at the time of selling the current flat, the couple must be remains married and there is no changes to the ownership of the second residential property.
Sell Now and Buy later
This is one of the most neat option. Reason, you do not need to rush to do any of the transaction be if buying or selling. You can have time to buy the unit you wanted to, be it new or resales.
The catch for this is, you will sell your current unit openly in the market. After which, rent a unit as temporary accommodation (be it 1 or 2 years lease depending on your buying)
During the staying in the rented flat, you will wait for the handing over of key for your purchase unit, do any renovation required and move in on the selected date.
NO RUSH
Question you might ask will be, why should I be paying rental during this period?
Agreed, but the rented pay as compared to your ABSD. The different is very clear. Example, the ABSD for 2 million dollars property S$ 364,600. the rental for any units over 24 months, you can put aside $72,000 and you will still have a saving of close to S$ 300,000.
Buying and Selling concurrently
This option, you can bypass the above payment of ABSD totally. Yes, you can. But… But.. But..
The key factor to made this a success is, timeline need to be well plan and managed for both buying and selling of both the properties. You are also, need to take into consideration that you do not have time for renovation.
For this option, I will strongly suggest you to engage an experience and professional real estate relator to assist you. He / She must be able to put on table, a timeline plan on how you can go about doing the upgrade. This is to reduce any foreseeable hiccup
If you felt that, you are not confident in the realtor engaged. You can consider us, as you have 3 professional realtor at the same commission paid.
Selling your current and buying two properties, one to stay and one for investment
If financially permit. You can consider using both your cash from sales proceed and CPF Fund of the sold HDB flat to purchase 2 private properties.
one of the private property for your own staying and the other put in market for rental. The rental collected can be used to support the loan of one of the property with some surplus.
To reduce any possible stress from you, being the buyer of both properties. We can arrange to have both the properties purchased at different timing. This is not necessary to happen at the same time.
Conclusion
With the above options shared. it might sound too heavy for you. All option are workable, but it depends on the financial and risk appetite. I am most happen to assist to walk you through, at your available time slot, to see which option fit you best.
Case Study 1
Let me share with you, what I have done for one of my client, Mr and Mrs. Liew
Mr and Mrs. Liew purchased their HDB 4 room flat in Serangoon. A resales HDB flat. They have, during the purchase enjoyed the CPF Housing grant. They are not willing to move out of Serangoon area as their parent are staying in Serangoon also.

I was being contacted shortly after their MOP reached. Sharing with me, they have plan to upgrade. After understanding their financial and risk appetite and their interest in buying one private property and second for investment.

I have recommended them to sell their HDB flat and purchase a 3 bedroom in Forest Woods Condo. During the time, after selling the HDB flat, before obtaining the key for new condo (which is soon). They have the benefit of staying with their parent over the past 4 months.

Now, they are just happily staying with no worries, waiting for the taking over of their private condo. After which, they will be looking into investing a 2 bedroom units for rental.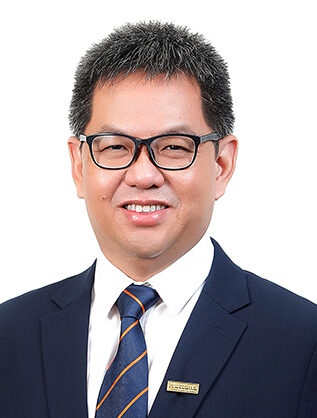 Lewis became part of the family of Orange Tee and Tie in 2020. He has been in the real estate since 2005, with him joining, he has brought along with him, was a long history of experience in both HDB and Private property.
His personal belief is, to share the truth and facts with everyone. With that, he has good credibility with all his client
As the world is moving into digital, there are still some "human touch" that must not be missed. Now, let's ring me at +65 90107188 if you have any queries relating to real estate. I do understand you might be busy. Tap onto the following to WhatsApp me and i will respond to you