What Have CPF Accrued Interest Affected You Sales Proceed
Mr and Mrs. Tom is happily browsing the Internet, flipping on newspaper classified section, surfing on HDB website looking for the date of BTO, sourcing for new launch condo, etc.. … …
Having to stay in your current property for 10 years. The family has decided to sell the current property and upgrade to a bigger and better location. They did a quick calculation, basing on the buying price and the current average market value. They have made 100,000.
I was contacted by Mr. Tom since he bought his current property through me. He shared with me, his intention is to upgrade from the current HDB in Sengkang to a private condominium in Serangoon.
The very next evening, I met up with both Mr. and Mrs, Tom. We sit and discuss in more detail the intension and how they can move ahead seamlessly.
After the financial calculation with them. They did not make the expected $100,000 after selling. This came in shocking and the question is WHY?
In all mortgage loan repayment using Central Provident Fund (CPF). There are 2 interest that you paid. One is the interest for the mortgage, which reference SIBOR rate. Another part is the interest from the Central Provident Fund for using your CPF Ordinary Account (OA) to repay. when returning your fund to CPF. This amount can be obtained after you logon to the CPF website, under the accrued interest.
What is CPF
The Central Provident Fund (CPF) is a comprehensive social security system that enables working Singapore Citizens and Permanent Residents to set aside funds for retirement. It also addresses healthcare, homeownership, family protection, and asset enhancement.

Before your retirement, CPF has allocated 3 buckets of account. Mainly the Ordinary Account ( OA ), Special Account (SA) and, MediSave Account(MA)

Source: CPF Web Site
What Benefit did I get from CPF?
Additional Wages
Unknowingly, you are having an additional income every month. The amount comes to 17% of your monthly salary. This is from the employer's CPF contribution to you during your employment status.
For example, your monthly wages are $5,000. You are supposed to contribute CPF, which is 20% of your monthly wages. Your take-home pay will end up being $4,000.
Going into your CPF is you $1,000 from your wages and employer will have to pay $850 into your CPF. That makes your total contribution to you CPF is $ 1,850
The amount of $1,850 contribution to your CPF. This amount will be distributed into 3 accounts. The OA, SA, and MA. Depending on the age, the able below share with you the distribution on the 37%
| | | | |
| --- | --- | --- | --- |
| Age during employment | Ordinary Account | Special Account | MediSave Account |
| Between 36 to 45 | 21% | 7% | 9% |
| Between 46 to 50 | 19% | 8% | 10% |
| Between 51 to 55 | 15% | 11.5% | 10.5% |
Source from : Website AreYouReady by CPF
Higher Interest Rate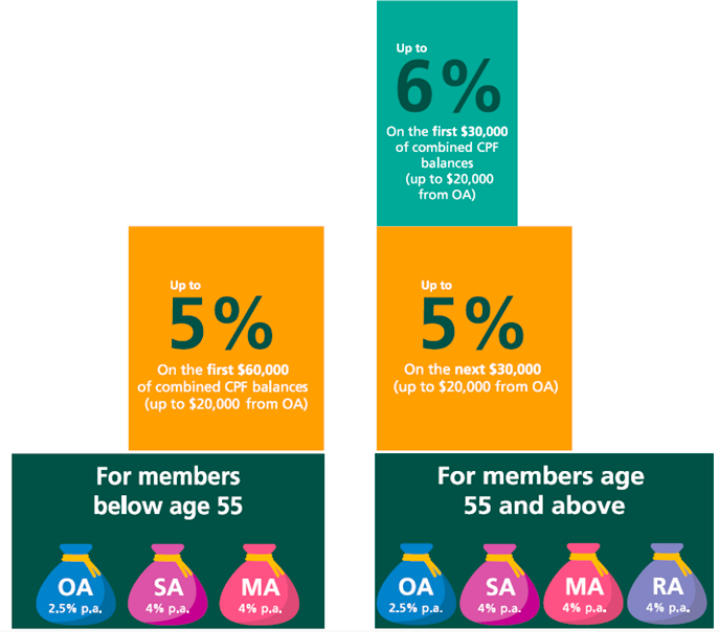 Banks are offering an interest rate of not more than 1.5% for a Fix Deposit account. As for CPF, your interest rate earn is 2.5% for the Ordinary Account (OA) and 4% for Special and MediSave Account (SMA).
Using it as a source for investment
CPF fund can be used to do investment. This investment include the buying of property. But, for whatever amount that was withdrawal from CPF. There is an interest payable upon returning it back to CPF. Assuming you took $100,000 to do you property loan repayment. The return amount as shown on the following tables, including the interest incurred.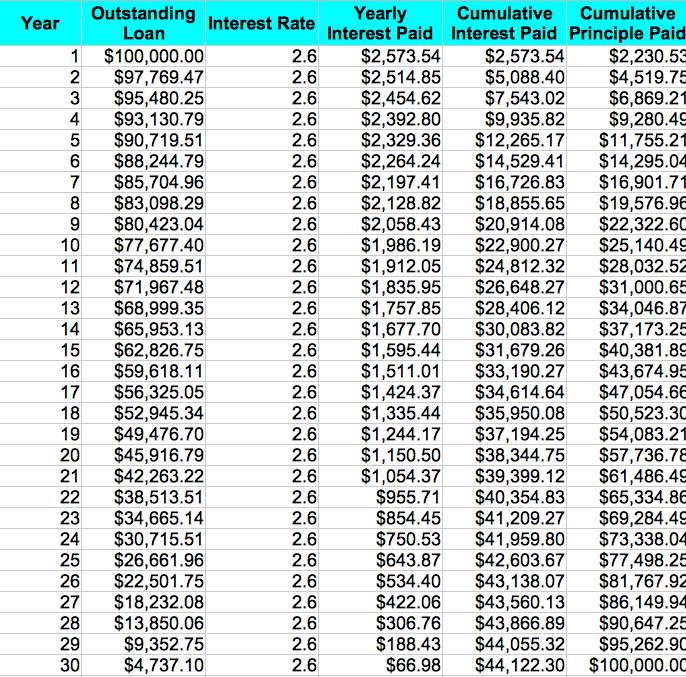 What is the disadvantages of using CPF
Interest Payable
If you are using CPF to service your mortgage loan. There will be interest incurred when you sell your property.. This accrued interest can impact the sales proceed.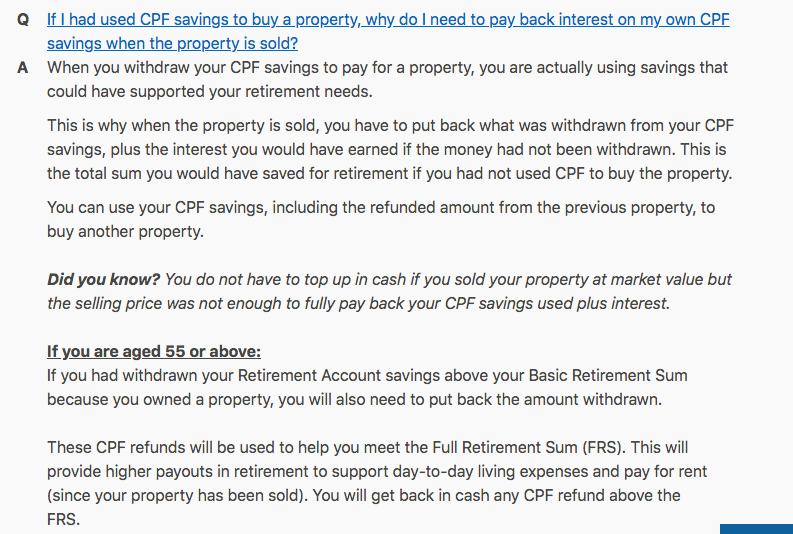 Should I continue to use CPF to pay for my mortgage?
This depends strongly on your trade and your financial status. If you are a trade like me, a real estate professional, financial advisor, owning your own business. Cash repayment will be a good option to consider. As long as you are being employed. Your fixed salary received every month, with CPF contribution to your CPF OA account. It is worth considering using CPF to repay.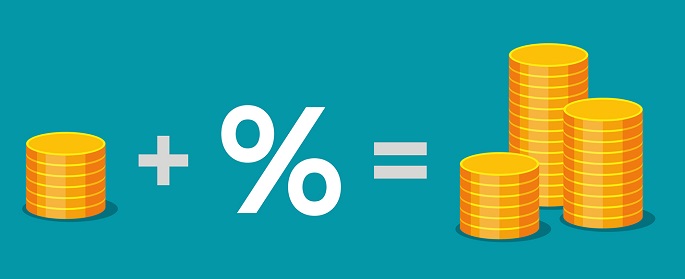 CPF Accrued Interest
Although there is an accrued interest upon you selling your property. The amount will still return to your CPF OA account and the amount is not "missing". At the age of 55. This amount will be part of the amount, transferring to your RA account.
You will feel the impact if you required this amount to purchase the next property. If you are facing the situation. Do share this with the real estate profession. They might be able to advise you on how it can be done. Everyone required a roof over your head at the end of the day.
Fund Management
Assuming you are in the workforce, where you have to continue CPF contribution. This amount into your CPF can only be yours after you age 55 (as of the year 2020).
Your monthly salary credited into your bank account, which is totally in your control. You will manage and use it for your daily expenses. If the mortgage loan repayment is going to be from the same pool of funds. It might add an additional burden in managing your cash on hand.
Without having to repay from cash. You can have peace of mind in the mortgage loan repayment.
Since the amount in CPF OA account is unable to use it for your daily spending, even, if you are jobless. Let's use CPF OA to service the mortgage. In the event, your income was affected. The remaining amount in CPF OA is still able to support the mortgage.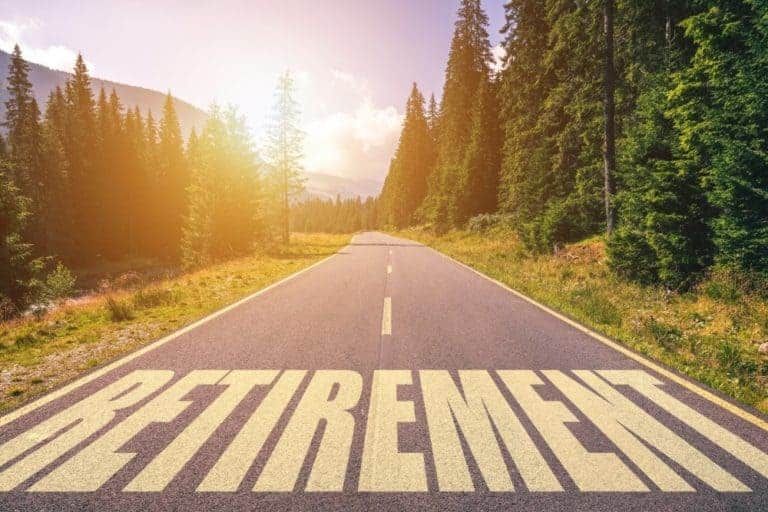 Buying a Home for Life without affecting the Retirement Adequacy
There is an update to the rules on both the use of CPF and HDB housing loans. The update provides more flexibility in buying a home for Singapore citizens at the same time, safeguard retirement adequacy.
The main focus of the new rules focuses on the remaining lease of the property. As long the remaining lease of the property can cover the youngest purchaser until at lease of age 95.
This rules has already taken effect as you read on this article.
In more detail sharing the new rules. As long as the remaining lease of the property is over 20 years. Also, it can cover the youngest buyer until at least 95 years of age. The repayment of the property can be through the use of CPF up to the valuation limit.
Should there be a more detailed understanding required, you can visit the site which gives you a more detailed explanation.
Will I be Debt Free after 30 years
Many homeowners I have spoken to. Their mindset is, I will buy the current property. Finished servicing the loan within the 30 years and I am debt-free.
This is correct in relation to the mortgage loan. What will happen to the value of the property? For HDB, the lease decay will have a direct impact on your property.
There is a very high chance the value of your HDB property will drop after it passed 35 years of age. The returns value of the HDB will not able to fetch as attractive price as current. This will lead to a lesser profit.
One of the recommendations, to safeguard the CPF, is to upgrade from your HDB to private. The upgrading is very much dependent on your financial capability.
Conclusion
We must give the credit to the CPF system. Without having to have that, many Singapore citizens may not able to afford a roof over their heads.
The consideration is, being a buyer, how can we fully utilized the system to achieve a positive return. It should not impact the retirement fund and at the same time for a better life living.
Singapore having a limited land size. The prices of Singapore property is very likely to be on the up as times goes by. We look at most of the countries. The property price is always on the uptrend as long as there is no financial crisis, be it within the country, the region, or across the world.
Therefore, even with the accrued interest compounded. You might not be losing any of your profits. Having said that, timing is the key to making the decision of selling or buying.
Lastly, with the financial and political stability of Singapore. Fund in CPF and the value of the property will be safe. Investors are also keen to bring their funds into Singapore to invest in property.
If you are unclear. Especially when it comes to, how the interest affects you and your CPF. How can you maximize the return so as to have more funds during retirement?
Do contact me at +65 90107188 or via WhatsApp here. I am most honored to share with you any concern you have and how can you move forward with a lower impact on the accrued interest.
---
Lewis became part of the family of Orange Tee and Tie in 2020. He has been in real estate since 2005. Together with him, he brought along a long history of experience in both HDB and Private property.
His personal belief is, to share the truth and facts with everyone. With that, he has good credibility with his client. His strong belief in a partnership and not the client made him successful in this career also.