Should I Sell My HDB After Upgrading To Condo?
Should I Sell My HDB While I Am Upgrade To Condo?
As time moves on, you have built your financials to be able to upgrade from your existing HDB. There are some questions that you would be asking yourself, such as; Should I upgrade? What should I upgrade to? Where would be a good location?
These questions can be answered easily as it is very much how you feel. You would be able to address those queries, as long as you are comfortable both with financially and with the location. However, the question that sits between the current and future financial is, should I sell my HDB after upgrading?
There are few things that you should take into consideration, before making that decision that I will be sharing with you.
How Much Interest Would I be Paying
As this is your first HDB Flat, you would have taken up a HDB loan. You will also have received a grant from CPF Housing grant. You are using your CPF to repay your loan.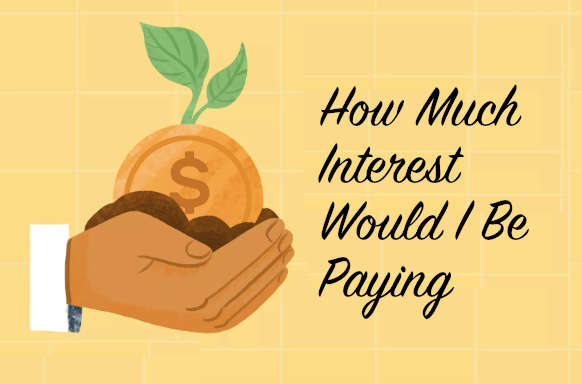 Assuming that you bought a 4 Room HDB flat in Bukit Merah in 2010 at $500,000. You would have taken a loan of $350,000. As of today, you have serviced your $350,000 loan for 10 years. The interest rate you paid is at 2.6%. How much of your accrued interest has been paid?

From the chart above, you have paid a Cumulative accrued interest of $82,363.75. If your flat is sold now at the current market value (Q1 2020) of $652,000, $432,363.75 would be credited back to your CPF, and your potential cash proceed would be $219,636.25.
Should you decide to hold your property. Your total accused interest paid would be $183,429.95 upon completion of the 35 year loan. In addition to your principle of $350,000. The total amount returning to CPF at the end of 35 years will be $533,429.95. About $100,000 more than what it is today.
To achieve the $219,636.25 of cash proceeds. Your flat needs to be sold at $753,000 25 years later at $753,000. However, this figure may not be possible at that time due to the following reasons stated below.
Tax Payable When Buying Your Condominium
As you have decided to rent your HDB instead of selling it. You would be required to pay Additional Buyer Stamps Duty (ABSD) on the condominium that you have purchased, and should you be a Singapore Citizen, you would be required to pay 12% of your Condominium purchase price.
Looking at a property that is a unit with 3 bedrooms at Queens Peak, which is going at $1,800,000, the ABSD of 12% would be a cash payout of $216,000. This amount would almost be equivalent to the cash proceeds from previously selling your 4 room flat.
Total Loan Amount
To be entitled to a loan for your newly purchased Condo, you would have to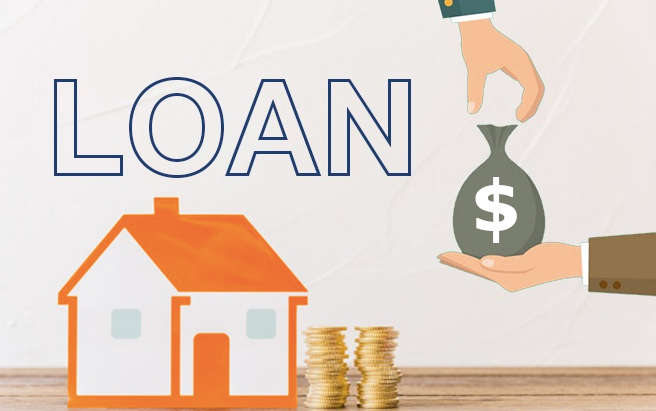 The Total Debt Service Ratio is a framework by the Monetary Authority of Singapore(MAS), which aims to safeguard the borrower, whom in this case is the property owner, from over-borrowing.
This is computed based on the percentage of the monthly gross income of the purchaser, to ensure the ability of repayment
Loan To Value(LTV)
If your current HDB has a loan that is still running, you would be limited by the Loan To Value(LTV), hence, your total loan amount would be 45% of the total property value. In addition, you will be required to have cash on hand for 25% of the property value as down payment.
Should you decide to buy-up your current HDB Loan, it will be your second property, and hence your LTV would be capped at 75% of the property value, and the cash on hand required for down payment would be 5% of the property value.
Putting Your HDB For Rental
You would want to put your HDB flat to good use after having to hold back the selling of your flat. Majority of the people would put the unit out for rental, as with that, you would become a property investor, collecting rental as a form of passive income.
Sound good? Yes. But, have you missed out anything?
Answer is : YES!
Before you collect the key to your new condominium, you will be required to pay the ABSD in CASH within 14 Days after the agreement of the purchase has been signed.
Upon receiving the keys to your new Condominium. Before you are able to rent out your flat. You would have to refurnish the flat, ensuring that all necessities are in a working and presentable condition. Along with fulfilling the requests of the tenant for necessities such as beds, a television, and a washing machine, just to name a few. Depending on the condition of your flat. The amount required for refurnishing might cost you up to a few thousand dollars, even before the flat has been rented out.
Upon successful rental of your flat, the amount of rental collected would be taxable at the end of the year. This amount would be on top of your regular taxable income. In addition to the tax payable, you would be required to pay a property tax, which is 10% of the Annual value of your flat.
Should the flat be rented out at a rental value of $2500 with a lease of 2 years, the total rental collected would be $60,000. With your loan repayment for your HDB flat that is estimated at $15,000 per year, in addition to the tax payable and repair works required, your profit per lease term of 24 months, potentially comes to $25,000.
Pricing Of The Older HDB Flat
The value of property depreciates with time. A HDB flat with a value of $652,000 now, would not remain the same in 10 years.
With reference to a point above, you would be fetching a potential cash proceed of $219,636.25 should you decide to sell your property now. With reference to the supporting chart shown below, the average transaction price of a 4 room HDB flat in Bukit Merah is $687,000, with the price increasing from 2007 to 2013, before stagnating after Q2 of 2013. This is due to the age of the flat.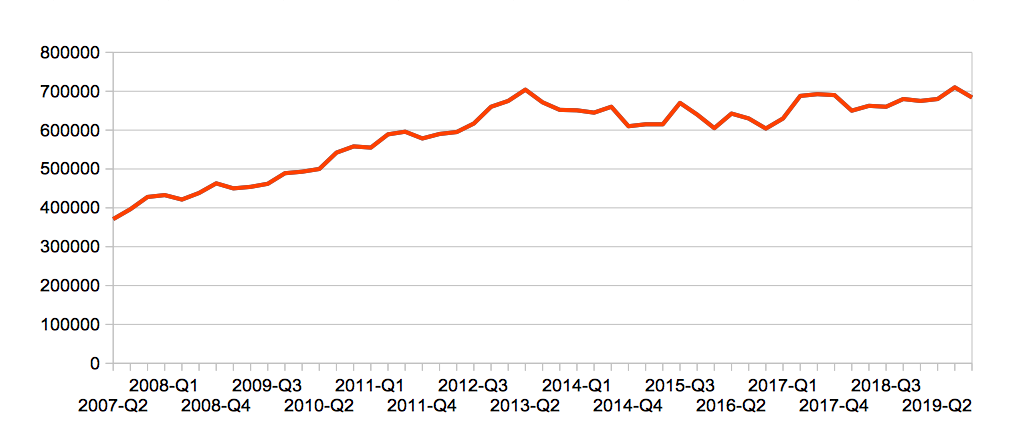 Therefore, wanting to make $219,636.25 after having fully paid your loan 25 years later could pose as a challenge, as the price that you would have to sell your flat at would be $753,066.20
Expected Cash proceed : 219,636.25,
Principle Load amount : 350,000
CPF accrued Interest : 183,429.95

The rental amount of $312,500 collected over 25 years, with the assumption that the rental fee remains at $2500 per month, was not taken into consideration, as it has been used to offset the amount paid for ABSD
Below Is A Case Study For Your Reference:
Mr and Mrs Lim contacted me sometime back. They had some thought of upgrading from the existing HDB to a Condominium near Sengkang.

From the meeting with them, Mr. Lim gave me the understanding that they were staying in a 5 room flat in Sengkang. The flat has passed the MOP and they are planning to upgrade to a Condominium.

Without drilling into much detail, my initial recommendation to them was, not to hold the HDB flat. The purchase of second property will require them to pay for ABSD. The ABSD amount is going to be of an impact to them. Mr. and Mrs. Lim have also shared, that was the concern they had and wanted a second opinion from a professional realtor.

Moving on, I have also shared with them, the accrued interest from the CPF, which they were not aware of. I have therefore, done the computation as followed for them.

Purchase Price of Flat : 488,888
Loan Amount : 380,000
Outstanding Loan: 336,000
CPF Accrued Interest : 56,000

Expected Selling Price : 540,000
Potential Cash proceed : 100,000

I have also shared that should they want to keep the HDB, the ABSD for the new property priced at $1,500,000, would be $180,000. The potential cash proceed would not be able to cover that should they not sell the HDB flat

With that, Mr and Mrs Lim has taken my recommendation. They have put the HDB on market for sales, at the same time looking for the new condo. I have also shared on the timeline required for both buying and selling. So that they are able to move into the new place and same time, without incurring additional costs
Conclusion
Having shared the various figured on the holding on to a HDB flat and buying a Condominium. My recommendation would be, for them to sell their current HDB flat once it has reached the MOP or when you decide to upgrade. Holding a second property with the first being a HDB comes with a higher additional payable tax. Furthermore, there is no capital gain tax upon selling your HDB.
However, with that said, there are still options available should you want to become a property investor. You can still invested in two properties, without incurring high payable tax can be overcome. This can be done, as long as the properties you owned do not involve a HDB.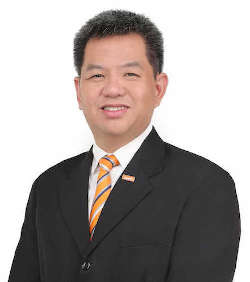 Lewis became part of the family of Orange Tee and Tie in 2020. He has been in the real estate since 2005. Together with him, he brought along a long history of experience in both HDB and Private property.
His personal belief is, to share the truth and facts with everyone. With that, he has good credibility with all his client
As the world is moving into digital, there are still some "human touch" that must not be missed. Now, let's ring me at +65 90107188 if you have any queries relating to real estate. I do understand you might be busy. Tap onto the following to WhatsApp me and i will respond to you